Sherman Oaks Diner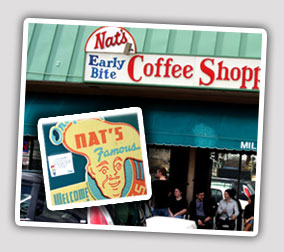 Looking for a popular diner in Sherman Oaks, Van Nuys, or Studio City? Nat's Early Bite has been serving up delicious food and hot coffee to Sherman Oaks residents for over 3 decades. A long time Sherman Oaks and Van Nuys restaurant favorite, Nat's dishes up award winning breakfast, brunch, lunch, and dinner entrees along with homemade cookies, muffins, pies, and more.
Sherman Oaks Breakfast
If you are looking for a great breakfast in Sherman Oaks, come on in and try one of our signature favorites, like Howie's Waffles or our Country Skillet. Or maybe you're in search of a Sherman Oaks restaurant with a little spice on the menu - then try one of our famous South of the Border specials. Looking for a locally owned, Sherman Oaks breakfast diner that makes their own homemade sausages? Nat's has 10 different sausage flavors of all different spiciness to keep every Sherman Oak's appetite satisfied.
Our Sherman Oaks breakfast prices are always reasonable and our breakfast menu is second to none. We have a wide variety of egg dishes, pancakes, French toast, waffles, omelettes, scrambles, sausages, cereals, juices, muffins, and breakfast sides. Not to mention we have all-American breakfast items, traditional Jewish breakfast meals, and plenty of Mexican inspired breakfast dishes. It's a breakfast Menu residents in Sherman Oaks won't find anywhere else.
Check Out Our Sherman Oaks Breakfast Menu
Sherman Oaks Lunch
Got a hankering for a great burger in Sherman Oaks, Studio City, or Van Nuys? Look no further because Nat's Early Bite has the lunch menu food lovers have been craving for nearly 40 years. In fact, residents from Encino, North Hollywood, Van Nuys, Valley Village, and Studio City all flock to Nat's Early Bite in Sherman Oaks for a little taste of lunch-time heaven. When it comes to Sherman Oaks lunch menu's, this one takes the cake: delectable sandwiches, hearty burgers, soups, salads, and incredible lunch sides like home fries, French fries, coleslaw, turkey bacon, potato salad, rice, and more.
A little dessert with your lunch? Our's are homemade and your server will be happy to let you know what delicious sweet treat you can have to finish off the perfect Sherman Oaks lunch.
The lunch atmosphere at Nat's Early Bite in Sherman Oaks is great. Happy eaters from North Hollywood, Van Nuys, Studio City, Valley Village, and Encino head for our Sherman Oaks lunch diner when they want to relax, enjoy a tasty lunch, and be helped by our easy going, hard working wait staff. You'll always feel like you're at home at Nat's, and our eclectic lunch crowd says it all: people of every age, size, shape and color love great food!
Check Out Our Sherman Oaks Lunch Menu
Sherman Oaks Dinner
Hungry for dinner in Van Nuys, North Hollywood, Studio City, or Encino? Come on into Nat's in Sherman Oaks for a delicious home style cooked dinner. We have the perfect supper entrees for your dinner appetite, including local favorites like our fresh Cod Veracruz, Chicken Victor, Nat's homemade Meat Loaf, or our acclaimed All White Turkey Dinner. So what are you waiting for? Get to your local Sherman Oaks restaurant and have a dinner you won't forget!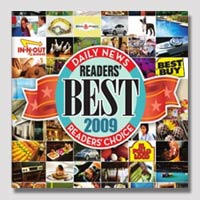 In the mood for breakfast for dinner? Not a problem, we happily dish up all of our famous breakfast dishes all day long.
Check Out Our Sherman Oaks Dinner Menu
A Healthy Restaurant in Sherman Oaks
Fitness buffs in Sherman Oaks and Van Nuys know they can get a tasty meal that still fits within their nutritional goals with Nat's "Gym Menu" - a healthy menu designed for the fitness-minded eater who still enjoys plenty of taste bud delight. Even though you'll keep in top-shape, our healthy menu is definitely not a light-weight! There are over 15 delectable healthy entrees to choose from. Get all the healthy classics like egg whites, cottage cheese, and chicken breast, as well as some home-grown entrees like our Gym Pasta, Tuna Omelet, or Big Scramble. Whether you're on a diet or trying to get buff, our health menu is the place to eat for all workout-aholics from Studio City, Van Nuys, Valley Village, North Hollywood, and Sherman Oaks.
Check Out Our Sherman Oaks Healthy Eats Menu
Kid Friendly Restaurant in Sherman Oaks
Nat's Early Bite restaurant in Sherman Oaks is the perfect spot for parents in Sherman Oaks or Studio City with mouths to feed. We've got all the children's classic meals that'll have all the kids in the Valley smiling: waffles, pancakes, cheeseburgers, chicken strips, spaghetti, and of course mouthwatering grilled cheese. And we're kid friendly too, so come on in, grab a booth and enjoy a wonderful meal that'll have the whole family stuffed and satisfied.
Check Out Our Sherman Oaks Kid's Menu
Best San Fernando Valley Diner
No matter where you live in the San Fernando Valley, be it North Hollywood, North Hills, Van Nuys, Studio City, Valley Village, Van Nuys, Encino, or Burbank, the trip to Nat's in Sherman Oaks is well worth the drive. Don't take our word for it, come see for yourself why we were voted the "Valley's Best Coffee Shop". If lip smacking good food, friendly service, and lovable prices are your thing, then you'll be plenty pleased when you some into Nat's Early Bite Restaurant for breakfast, lunch, or dinner.
Share Share Nat's Early Bite with your Facebook Friends.